Gamified Orientation After Merger At Advania
After the recent merger with another company, Advania decided to gamify the orientation with Seppo to integrate new and old employees. Read their success story and find out how this led to a fun and engaging integration and created a sense of community at Advania.
Maria Simula, Communications Specialist & Tia Flöjt, Human resources Assistant, Advania
Gamified Orientation To Successfully Integrate New Employees In Advania
Advania is a Nordic information technology service corporation. The company is one of the largest companies in its field in the Nordic countries, with its headquarters located in Stockholm, Sweden. Advania offers services for the IT environment and digital work for companies of all sizes. Advania connects people, develops schools, and helps businesses grow.
Since 2019 Advania also operates in Finland. In 2022 the company acquired another Finnish company called "Valtti". Together, Valtti and Advania are now operating under the name "Advania Finland".
After the merger, Advania was looking for a way to onboard and integrate new and old employees. The goal was to get to know the new organisation, its culture, ways of working, and most importantly to get to know colleagues better.
Gamification was the solution to do this integration in a fun, yet very effective way. Seppo was the tool to make this possible, offering a whole new way of learning and operating for Advania employees.
Integrating people in a fun and entertaining way created a sense of community
Advania has created two Seppo games so far. The first game, the "kick-off game" was a short game, played online in small teams, to get to know each other better and get familiar with the new Seppo gamification platform.
With the second Seppo game, the "Advania game", players were diving deeper, getting to know the new organisation and its culture further. The game lasted 8 weeks, with new tasks being revealed every week.
Maria Simula, Communications Specialist and Tia Flöjt, Human resources Assistant at Advania are proud that with the help of the Seppo games they succeeded in "integrating people in a fun and entertaining way".
"The interactive element of the game was great. It's not just writing a text or shooting a video and telling people 'read this' or 'watch this'. Seppo has helped people to get involved and it's been a more fun way to learn," says Maria Simula.
The engagement and motivation of employees throughout the game also shows in conversations people have at the office.
"People are talking about the game here in the office and you hear them say 'have you started the game, yet' or 'how did you do this task'. It's created a sense of community," comments Maria Simula. 
Great learning outcomes with a Seppo game
While planning the games, Advania set up various objectives, regarding employees' knowledge about the company, their work behaviour, and feelings towards the company.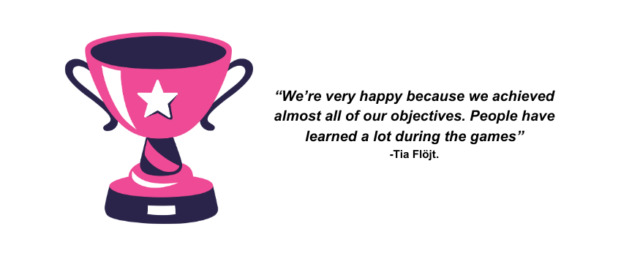 Players agree with this also.
"Many thanks to the organisers! This was a well-executed game of high quality!" comments one player after the game.
Especially on an emotional level, Maria and Tia felt that the game had a positive impact on how employees feel about Advania. People are now more attached to their workplace and their new colleagues. People enjoyed playing the games together. They said that it was great to do something together in a team and at the same time have a chance to get to know the new colleagues better.
"Well conceived and executed! A fun way to learn about our organisation! Thank you very much for this!" comments one employee after the games.
Another employee seems to already be eagerly awaiting the next game, as he declares:
"Well implemented and instructive game. More of this!!!"
The magic of games and storytelling – fun not only for the players
Maria Simula and Tia Flöjt were surprised how rewarding the games were – not only for the employees but also for themselves – the game creators.
"You get a bit addicted to it (= game making) and stay in "game-mode", even after the game", laughs Maria Simula. 
At first, Maria and Tia were a bit worried, thinking "How will we ever come up with a fun game?". But once the two of them came up with the idea of an IT-Wizard coming to Advania, they were having a lot of fun making the game: coming up with different parts of the story, making videos, acting as the IT-Wizard themselves, and using "magical" words in the game.
They were happy about the support and tips they got from Seppo.
"It has been really great cooperation! A big thank you to the Seppo support team!"  Maria and Tia say cheerfully.
Now, both Maria and Tia say with radiating self-confidence,
"We're very proud that we managed to create such good games! We got to learn a lot of new things ourselves. We feel confident that in the future, we can easily create other games, without any help from Seppo."

"We already have a few new ideas for future games in mind," Maria adds joyfully and gets nodding approval from Tia.