Gamified Team Building
Allseas gamified their team building with Seppo. Read the story to find out how the game activated employees, and increased collaboration & communication among employees.
Sanne Cransberg, HR Project manager & Manon van den Berg, Unit Head Learning & Development, Allseas
Allseas Brings Their People Together With A Seppo Game
Allseas is a world-leading contractor in the offshore energy market located in The Netherlands, Switzerland, the United States, Australia, Malaysia, and Belgium.  Sanne Cransberg, HR Project manager and her colleague Manon van den Berg, Unit Head Learning & Development built a Seppo game to strengthen the people-orientated  culture in their company. 
Allseas was looking for a way to create a stronger bond between the employees. They wanted to have something that was fun, engaging and activating people.
Moving out and about with a Seppo game to bond with team members
Seppo was exactly what Allseas was looking for: an easy, fun and engaging way to get team members to get to know each other better. With the Seppo gamification platform, the company created a team building game, "the Bridge Game", in under four days.
"The support from the Seppo team was great and helped us to improve our own game ideas further and to become confident to actually launch the game," says Sanne. 
The gamified hike lasts around two and a half hours and takes players out of the office and into nature. It is activating employees, allowing them to bond with their team members, while moving out and about. It is a fun and competitive outdoor team building activity for everyone. The idea of the Seppo game was a sort of  team treasure hunt in which participants use a mobile phone (with GPS receiver) to perform various tasks and activities, which strengthens teamwork and cooperation within the teams.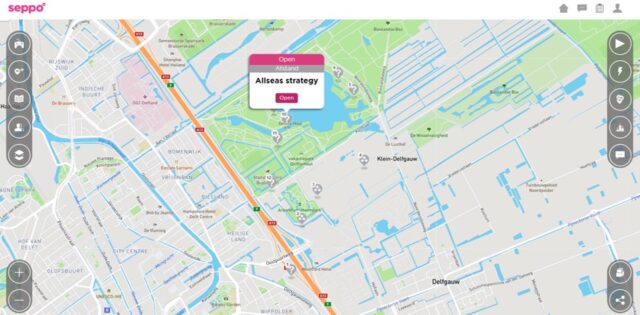 Getting to know colleagues in a fun and engaging way
Good team building has a positive effect on a company's working environment. Gamifying the process adds many new elements to the process. Playing the game was "time well invested" because it's an excellent way to get to know your colleagues better and discuss things that aren't always work-related.
The game allows employees to open up more easily. Employees found it easier to approach each other after the game. 
"The game offers an insight into someone's life. It's much easier to approach someone if you know who the person is that you're dealing with, where he or she comes from and what knowledge that colleague has," comments one of Allseas' employees.
Getting to know each other better was the main goal of the game. At the same time, the game created the basis for smoother cooperation. 
Gamified team building improves the quality of teamwork in everyday office work
The game didn't only improve bonds between old team members. It also proved to be a nice bridge between old and new faces, between newcomers and experienced Allseas colleagues, and especially between colleagues who often travel and don't see each other often in the office.  
The gamified team building activity improved the work atmosphere at Allseas. An increased quality of teamwork in every day work at the office was clearly visible. Everyone who took part in the game was enthusiastic about it. No one knew what they were in for, before the game. Everyone was positively surprised about the new form of team building. All participants were very engaged throughout the game. The activities were exciting and challenging, for example manoeuvre with a two metres long stick, as part of a collaboration task. It was something not many had done before – at least not together with their colleagues.
Scaling the game across borders
The game was a success, but how to use it in the future? A lot of work for a one-time activity? Certainly not! 
Employees in a team or department often already know each other reasonably well, so it's also beneficial to do the treasure hunt with people from other departments. Getting to know colleagues from different teams is an easier way to break down the silos and solve problems quicker! 
With the Seppo gamification platform you can easily adjust game content for future use. Therefore it will be easy for Allseas to implement their new ideas in their next game.
The next step was to bring the game to Allseas' office in Chatel-Saint-Denis, Switzerland. Technically it just required changing the map and the whole game was copied to the other location. Because that was so easy, the company is now also plotting the game in their Kuala Lumpur office. So, there's a lot of gamified fun for Allseas' employees to look forward to in the future.