Gamified Induction At LEGOLAND Windsor Resort
The LEGOLAND Windsor Resort team was inspired by their colleagues at Thorpe Park. They decided to also gamify their induction with a Seppo game. LEGOLAND was rewarded with great learning outcome and very satisfied new employees. Read their success story.
Zoe Fearnley, LEGOLAND Windsor Resort
Senior Learning & Development Manager
How to gamify employee induction?- LEGOLAND Windsor Gets Inspiration From Thorpe Park
LEGOLAND Windsor Resort is a fast paced theme park, with over 55 rides and attractions. As the name suggests, the park is located in Windsor, England. It was created to give 2 to 12-year-old LEGO fans memorable experiences whilst visiting. LEGOLAND parks are now a part of the Merlin Entertainments Group, a global leader in location-based, family entertainment. Merlin now operates over 130 attractions, 19 hotels and 6 holiday villages in 25 countries and across 4 continents.
Combining the best elements of classroom-based and online learning for induction
Historically, LEGOLAND's induction was heavily classroom-based, very slide-heavy, mainly the instructor doing the talking. This changed during the COVID-pandemic, focusing mostly on online learning. After the pandemic, LEGOLAND was looking for a new solution to combine the best elements of those two different ways of learning: Learning together with others, meeting people and learning on site at the park, as well as online learning elements.
"Previous collated feedback had told us that new colleagues loved the FUN element of the induction, the Resort tour element from pre-covid and the FUN of meeting other colleagues who they may not work with directly," says Zoe Fearnley, Senior Learning & Development Manager at LEGOLAND Windsor Resort. 
Gamifying the induction process was the solution the LEGOLAND Windsor team was looking for.
"We are a fun and creative brand and actually it was about us using something that worked very well with our teams that would engage them, create that team work and that fun element while they were being inducted with us," justifies Zoe the decision to gamify.
Does gamifying induction mean everything has to be included in the game? Not necessarily. At the LEGOLAND Windsor Resort, the onboarding process is made up of many various different phases, including face-to-face induction sessions and E-learning modules. The Seppo game is one piece of the puzzle of the whole process.

Inspiration from positive gamified induction example at Thorpe Park
Zoe and her colleagues were looking at induction examples from other parks within the Merlin Entertainments Group and got inspired by their colleagues at Thorpe Park.
"Our colleagues at Thorpe Park had been using Seppo for their inductions for a year and the engagement they had seen from colleagues was really positive. Once we went over and experienced it ourselves, we knew we had to have it too!" laughs Zoe.
Induction with Seppo: an engaging and fun way to induct new employees with great learning outcome
The LEGOLAND Windsor Resort currently uses a set route for all of their colleagues for induction. In the future they plan on using the branching function to create multiple games depending on the colleague's experience. 
According to Zoe, it was very rewarding to use Seppo for induction. It was easy to use, for the creators and end users alike. Moreover, Zoe found that the new employees were "really engaged with the activities and challenges that they complete during the Resort element."
Competition plays a big role in LEGO's gamified induction process. Zoe sees it as a big driver for peoples' motivation to do well in the induction game – and games in general.
"It's in our LEGO-DNA. It's all about fun and creativity – and play absolutely comes into that. We're quite competitive actually. We always find that that really drives peoples' need and want to do the images and do the videos, and do them to the best of their ability, because they know they're going to get a higher score – which ultimately means they're going to be the highest on the leaderboard," laughs Zoe. 
Play, creativity and fun are also part of LEGO's brand – having the world's most popular toy as part of their name. Using Seppo allows the park to include all that in the induction process:
"We can get the colleagues to integrate that [=play, creativity and fun] when they're out and about. One of our activities for example is about doing a voice in the style of the land that they're in. That's a very LEGO thing to do. We love Seppo, because it lets us do that!" smiles Zoe. 
The LEGOLAND Windsor Resort inducts new employees of all ages, from 16 to over 80 year-olds. According to Zoe gamification is something for all age groups: 
"They've all been very interactive. They love the game!"
This was also reflected in the feedback received from employees after the induction process. LEGOLAND Windsor has already inducted about 550 new colleagues this spring. The majority of the new seasonal colleagues have done the Seppo game. Over two third of those rated the employee experience as close to perfect – with 67% of the teams rating the induction a 9 out of 10. According to Zoe, employees love the fact that the induction is  engaging, that it's fun and that they get to play in teams. That way they get to do something together with people they might never work with on a day to day basis.
"Such a welcoming, high energy and interactive induction! Best yet!" comments one employee.
Most employees said that they prefer this way of learning. 
"They absolutely love it! The feedback is really positive after they finish. They prefer it because no one wants to be watching lots of slides," laughs Zoe.
Successful induction outcome thanks to using Seppo
Thanks to using Seppo for induction, the learning outcome was a great success!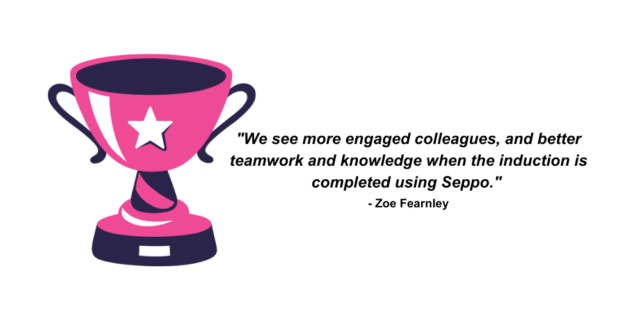 One employee points out how much he has learned about orientation around the park but also enjoyed bonding with colleagues: 
"Good for bonding with fellow colleagues, helps work out where the resort is and where everything is," the employee says.
Moreover, employees felt confident they could start working at the park immediately. They felt, they not only understood the whereabouts of the things around the park, but also understood the values of the business. 
"Engaging, helpful, gave me a good understanding of the business," remarks one employee.
Even though gamifying the induction process initially has increased Zoe's work load, throughout the process it led to far less work for her.
"It's not as much as me talking at someone for so long. They [=the employees] get to engage and enjoy. We rate the scores. But I can actually do my own work while I'm delivering an induction. Which is actually a great big time safer for us," reflects Zoe. 
The induction process with Seppo was a success. How to make use of it in the future? LEGOLAND Windsor inducts around 1500 to 1800 employees every year. Therefore, the Seppo game is a good  investment. It will reduce Zoe's workload even more in the future. The game is ready now and can be reused every season – small adjustments are easily done.
Seppo gamification platform was easy to use and provided great support whenever needed
The LEGOLAND Windsor Resort team was very happy with the support they got from the Seppo team throughout the whole process. The Seppo gamification platform offered helpful support in the form of FAQs and the Seppo team was always available, if needed.
"I really like the tool, there's a helpful platform to answer any FAQs I might have and the kick-off call with the team was awesome!" says Zoe joyfully.  
Seppo itself was very easy to use, as it was "very intuitive", concludes Zoe.